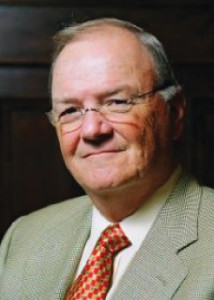 REID CARPENTER, President One by One Leadership Foundation
Reid Carpenter is Founder & Past President, Leadership Foundations of America (LFA), whose mission is to "Connect Leaders, Change Lives, and Transform Cities." He is also the President Emeritus of The Pittsburgh Leadership Foundation (PLF), whose vision was inspired by The Rev. Samuel M. Shoemaker — "I have a vision that Pittsburgh will one day be as famous for God as it is for steel."
In these positions, he has initiated collaborative ventures with hundreds of local partners to assist at-risk youth, prisoners and their families, people with inadequate health care, families in need of housing, and individuals and families with alcohol and drug addictions. He secured more than $500 million to support these efforts in the Pittsburgh area.
Additionally, he initiated, organized and helped fund more than 20 organizations including CLEAR – The Coalition for Leadership, Education and Advocacy for Recovery, now an affiliate of The Oasis Recovery Center; The Pittsburgh Youth Network, now the Pittsburgh Kids Foundation; The Coalition for Christian Outreach; Saltworks Theater Company; and East Liberty Family Health Care Center; and partnered with World Vision to establish its international distribution center in Ambridge and The Pittsburgh Storehouse, now The Education Partnership.
Mr. Carpenter began his ministry in 1961 as the Area Director for Young Life in Pittsburgh. As Regional Director, he worked in Ohio, West Virginia, Pennsylvania and New York. He then was promoted to Director of Young Life's Northeast Division, which included Eastern Canada.
Mr. Carpenter has been an advisor to many faith-based organizations and business corporations has served on various boards and committees, including Communities in Schools, International Urban Associates, National Center for Protection of Children and Families and WQED Enterprises.
He graduated from Fairfield University (CT) with a Bachelor's degree in Sociology and received a Master's degree in Biblical Studies from Young Life Institute, Fuller Theological Seminary (CA), and an honorary Doctorate in Humane Letters from Geneva College (PA). Mr. Carpenter and his wife, Carole, reside in Florida and are the parents of four grown children.